Blessed is the nation whose God is the LORD
A REAL GOAT RODEO..........
Once again, we now have a set of market conditions that is associated almost exclusively with steeply negative outcomes. In this case, we're observing an "exhaustion" syndrome that has typically been followed by market losses on the order of 25% over the following 6-7 month period (not a typo). 
Worse yet, this is coupled with evidence from leading economic measures that 
continue 
to be associated with a very high risk of oncoming recession in the U.S. - despite a modest firming in various lagging and coincident economic indicators, at still-tepid levels. Compound this with unresolved credit strains and an effectively insolvent banking system in Europe, and we face a likely outcome aptly described as a Goat Rodeo.
Goat Rodeo
 - Appalachian slang for a chaotic, high-risk, or unmanageable scenario requiring countless things to go right in order to walk away unharmed.
Finally, while we typically discourage drawing inferences from any single indicator, it's at least worth noting that with the release of Q4 GDP figures, the year-over-year growth rate of real U.S. GDP remains below 1.6% (denoted by the red line below). A decline in GDP growth to this level has always been associated with recession, usually coincident with that decline, though with a two-quarter lag in two instances (1956 and 2007), and with one post-recession dip in growth during the first quarter of 2003. As it happens, the GDP growth rate dropped below 1.6% in the third quarter of 2011.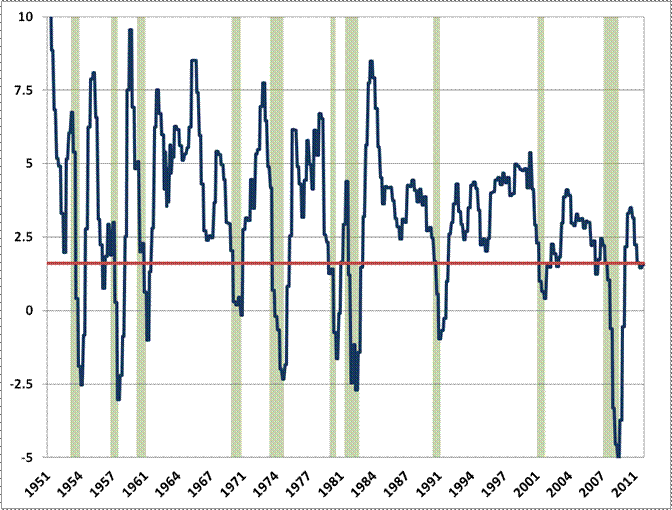 Given the strong and rather obvious relationship between the most recent year-over-year rate of GDP growth and the prospect of oncoming recession, it's difficult to understand why Wall Street so completely rejects the likelihood of an economic downturn. Then again, that's exactly why we're expecting a Goat Rodeo.
WALL STREET IS SELFISH AND ONLY INTERESTED IN THEIR PROFITS, NOT THE PROFITS OF THE HARDWORKING LITTLE MAN OR HOW THEIR LIES AFFECT AMERICA.
COLLAPSE...........

If the banksters and government cannot find a way to run another geometric debt scam then the entire ponzi scheme that has held up asset prices for the last 30 years will collapse. 

Not "might collapse", or "could collapse."

Will collapse !!!!!!

TALK ABOUT COLLAPSING.............
DON'T MISS THIS VIDEO CLIP

Pontiac Michigan For Sale, all of it!

http://video.msnbc.msn.com/nightly-news/46169922/#46169922

YOU HAVE TO LOVE BOB LUTZ, A HUGE PART OF THE PROBLEM, SAYING HE HOPES IT CAN COME BACK, WHILE SURROUNDED BY THE WEALTH HE STOLE WHILE HE WAS A PART OF THE FAILED SYSTEM.


2011 GDP: 1.7%

That's the final, pathetic growth number for 2011.

From the just-released GDP report:

Real GDP increased 1.7 percent in 2011 (that is, from the 2010 annual level to the 2011 annual level), compared with an increase of 3.0 percent in 2010.  The increase in real GDP in 2011 primarily reflected positive contributions from personal consumption expenditures (PCE), exports, and nonresidential fixed investment that were partly offset by negative contributions from state and local government spending, private inventory investment, and federal government spending.  Imports, which are a subtraction in the calculation of GDP, increased.

Will Portugal follow Greece?

Portuguese bond yields have increased on the back of downgrades and fears that Portugal will follow in the footsteps of Greece.
Another Chart That Looks Exactly Like The 
Crash Of 2008
SAVINGS IS A KEY METRIC...........

The US economy is trapped, not because of a sharp increase in the demand for money, but because loose monetary policies have depleted the pool of real savings. What is required to fix the economy is not to generate more inflation but the exact opposite. Setting a higher inflation target, will only weaken the pool of real savings further and will guarantee that the economy will stay in a depressed state for a prolonged period of time. THE PEOPLE AT THE FED ARE EITHER REAL STUPID OR MOTIVATED BY AN ALTERNATE AGENDA OTHER THAN WHAT'S GOOD FOR AMERICA.

Once the economy falls into a recession because of a falling pool of real saving, any government or central-bank attempts to revive the economy must fail.

Not only will these attempts not revive the economy; they will deplete the pool of real savings further, thereby prolonging the economic slump.

Likewise any policy that forces banks to expand lending "out of thin air" will further damage the pool and will reduce further banks' ability to lend.

The essence of lending is real savings and not money as such. It is real savings that imposes restrictions on banks' ability to lend. (Money is just the medium of exchange, which facilitates real savings.)

Note that without an expanding pool of real savings any expansion of bank lending is going to make banks' nonperforming assets worth even less.

THE IRAN SITUATION.............

While talking tough, the U.S. is showing ever greater concern with the possibilities of an uncontrollable Iran. There has been increasing chatter that President Obama is now prepared to talk directly with Tehran, a willingness that may upset other anti-Iranian allies such as Turkey and Saudi Arabia. If the Saudis feel sidelined or if they come to see the U.S. as an unreliable guarantor of Middle East peace, they may decide to abandon their long held support for American policy interests.

As a result of the diplomatic mess, investors should consider the renewed possibility of armed conflict in the Persian Gulf. It should not be ignored that, in a possibly tight election this fall, a "wag the dog" scenario with Iran is not beyond the realm of possibility. A war, or even an escalation in tensions, could be a deciding factor in allowing an incumbent president to maintain power. By secretly encouraging conflict, a sitting president could find substantial political benefit, even while maintaining dovish rhetoric. Although Obama came to office promising change, some things never do. RISKING YOUNG AMERICAN LIVES TO MAINTAIN POLITICAL POWER. WHAT KIND OF COWARD DOES THAT?

Investors should harbor no illusions that the recent surge in petroleum prices will ebb anytime soon, if ever.



The Worlds Massive Debt Bomb
$7,600,000,000,000 Dollars Of Debt Must Be Rolled Over In 2012

When it comes to government debt, it is not just new debt that is the problem.  Every single year, governments around the world must "roll over" gigantic mountains of debt that come due.  That means that the actual borrowing that takes place each year is far greater than the yearly budget deficits that you see talked about on television.
In 2012, a total of 7,600,000,000,000 dollars of debt must be rolled over by the G-7 nations, Brazil , Russia , India and China.  When you add in interest payments, that number rises to over $8 trillion.  And that does not even include any new borrowing that all of those nations will do in 2012.  
This is a debt bomb that could devastate the entire global economy at any time.  Everything will be fine as long as global lenders are willing to lend these countries gigantic mountains of very cheap money.  But if that changes, and there are already a multitude of signs that a massive global credit crunch has begun, it will mean a complete and total financial nightmare for the entire world.

The following list compiled by Bloomberg shows the amount of debt that these various nations must roll over in 2012….

Japan: 3,000 billion
U.S.: 2,783 billion
Italy: 428 billion
France: 367 billion
Germany: 285 billion
Canada: 221 billion
Brazil: 169 billion
U.K.: 165 billion
China: 121 billion
India: 57 billion
Russia: 13 billion

Up until recently, these powerful nations have been able to easily roll over their debts each year because lenders have been willing to shower them with gigantic quantities of very cheap money.

But in 2011 bond yields for many European nations really started to soar.  When the cost of borrowing goes up, that puts a lot more pressure on the finances of nations that are already very deep in debt.

According to Bloomberg, it is being projected that borrowing costs for G-7 nations will rise very rapidly in 2012 as well….

Borrowing costs for G-7 nations will rise as much as 39 percent from 2011, based on forecasts of 10-year government bond yields by economists and strategists surveyed by Bloomberg in separate surveys.

Rising borrowing costs are a major reason why Italy is on the verge of financial collapse right now.

One thing is for sure – the world will never be the same after this debt crisis plays out. Enjoy the prosperity of today while you can, because there is no way that it can last.

A massive financial collapse is coming, and it is going to shake the entire globe.

Sadly, most people remain ignorant about the debt bomb that is hanging over the nations of the world, and the coming crisis is going to devastate their lives without any warning.

This Chart Will Literally Make People's Jaws Drop........
The extent of how bad it is is not well known.