Record Lows In Initial Jobless Claims

The headline, fictional, seasonally adjusted number of initial unemployment claims for last week came in at 267,000. The Wall Street economist crowd consensus guess close to the mark this week, at 272,000.

We focus on the trend of the actual data, instead of the seasonally manipulated headline number expectations game. Facts tend to be more useful than the economic establishment's favored fictitious numbers. Actual claims based on state by state filings were 230,430, which is another record low for this calendar week. It continues a nearly uninterrupted string of record lows that began in September 2013.

You can see for yourself from the chart just how extraordinarily low these numbers are.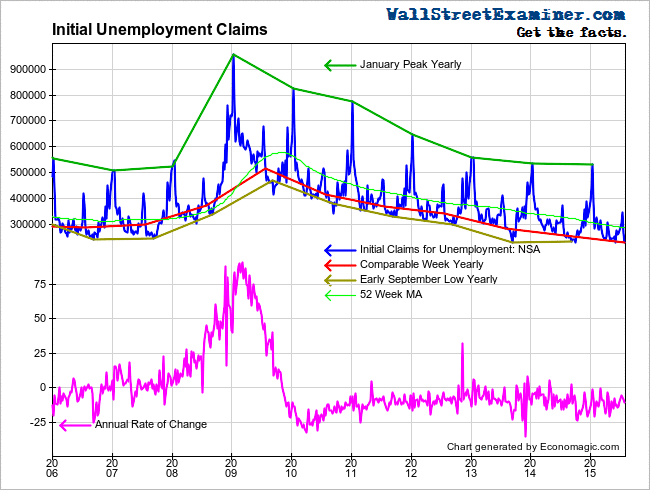 Last week the media noted the fact that claims were lower than the record low of 1973. What they failed to mention was that that low came well after the Dow reached an all time high in January of that year. 
The devastating 1973-74 bear market, which cut the value of stocks by 50%, was in its early stages. This was an early example of employers being late to the funeral.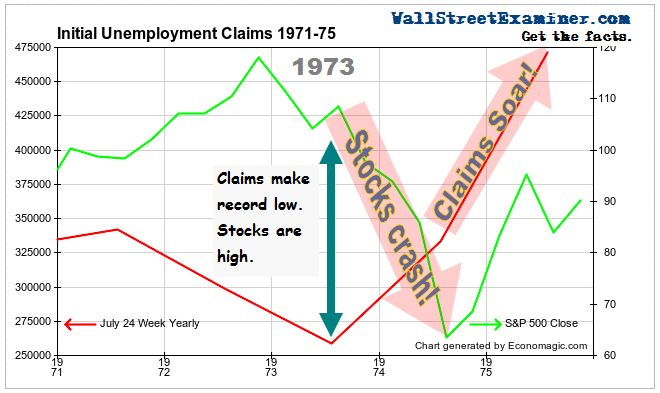 As a result of the fact that employers apparently tend to take their cues from stock prices, we cannot depend on the next downturn in the claims data to give us advance warning of a decline in stock prices, although there should at least be concurrent confirmation.
However, history shows that 
the fact that claims are at record lows is warning enough!