Yields on the riskiest junk bonds are absolutely soaring and the price of copper just hit a fresh six year low.

To most people, those pieces of financial news are meaningless. But if you understand history, and you are aware of the patterns that immediately preceded previous stock market crashes, then you know how how huge both of those signs are.  During the summer of 2008, junk bond prices absolutely cratered as junk bond yields skyrocketed. This was a very clear signal that financial markets were about to crash, and sure enough a couple of months later it happened.  
Now the exact same thing is happening again.

Now, with commodity prices resuming their plunge and currency wars spreading, concerns of financial contagion are back in the markets and spreads on corporate bonds versus safer, more liquid instruments like U.S. Treasury notes, are widening in a fashion similar to the warning signs heading into the 2008 crash. The $2.2 trillion junk bond market (high-yield) as well as the investment grade market have seen spreads widen as outflows from Exchange Traded Funds (ETFs) and bond funds pick up steam.

The big fear this time around is who is going to provide the liquidity in the junk bond market if too many investors head for the exits at the same time.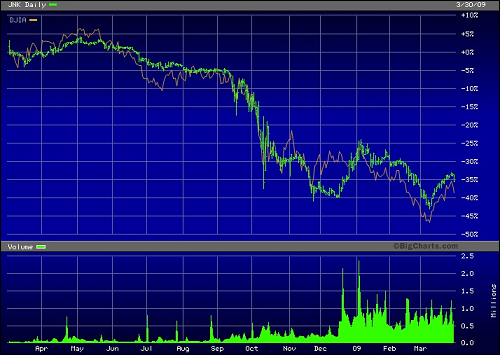 SPDR Barclays High Yield Bond ETF, March 2008 Through March 2009, Versus the Dow Jones Industrial Average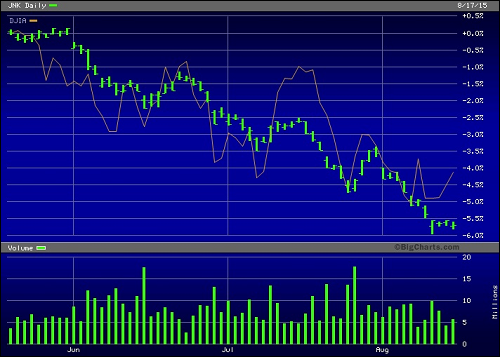 SPDR Barclays High Yield Bond ETF, May to August 2015, Versus Dow Jones Industrial Average

In a market panic, there won't be any buyers for the junk bonds in the giant portfolios, causing prices to plummet.